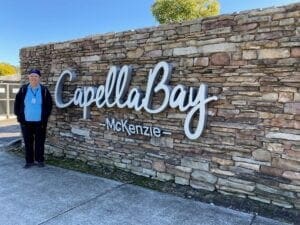 Working in a job you love is most people's dream, but for Myhorizon client, Debra McIntyre, it's become a happy reality, now working as a Food Assistant with McKenzie Aged Care – Capella Bay, Capalaba.
Having had various roles throughout her working life to support her family, last year Debra approached Myhorizon's Employment and Training team at Wynnum, looking for new work opportunities.
With the help of Jodie Dickason, her Employment Coordinator, Debra was soon after taking on short-term paid work as a kitchen hand, and also volunteer work at Meals on Wheels to develop her skills, experience and new found love of food preparation.
"I could tell that Debra had found her calling, and knew there was a bigger and better role out there for her, we just had to find it. After a few months we found her the perfect position at Capella Bay where she loves going to work and contributing in a warm and friendly environment," says Jodie.
Life is full for Debra, a single mother of three children, grandmother to eight grandchildren and most recently becoming a great grandmother, who still finds time to fish and spend quality time with her large family, but most importantly she enjoys contributing to society.
"This job has given Debra the ability to fill her bucket with a sense of purpose and belonging," says Jodie. "It's a perfect example that age is just a number and if you're open to trying new things, who knows what doors may open for you".
Thanks to this new role, Debra continues to flourish and has even planned a holiday to Sydney with her son to catch up with friends, something she has wanted to do for a long time.
Click here to find out  more about Myhorizon's Employment and Training Service.