It's been a warm welcome for Lifestyle participant Scott Adam, to our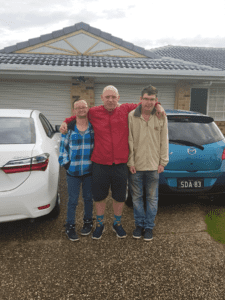 Supported Independent Living home in Riley Drive, Capalaba.
With tenants Stephen and James already living in the property, the last vacant room has now officially been filled with Scott recently moving in and joining the bachelor pad.
The men in the house were thrilled with Scott's arrival and his calm demeanor and easy-going attitude have made him a fantastic and compatible addition to the house.
Now that Scott has moved out of home, he's keen to expand his skills in the kitchen and cook for his housemates (with the help of his Support Worker). He's even been given the run-down by his new housemates on how to operate the dishwasher and washing machine and actively contribute to keeping the home clean.
Scott is no stranger to embracing an independent lifestyle, having already achieved his driver's license, and arriving to his new home in his very own car, which he regularly enjoys taking for a drive when he gets the chance.
What a fantastic and empowering achievement!
When transitioning into Supported Independent Living (SIL), Myhorizon believes that the compatibility matching process is the highest of priority. We want our participants to live with people they feel safe and comfortable with.
We believe that the success of a SIL home is dependent on appropriately matching participants based on age, gender, interest, location and support needs.
We want our participants to take an active part in choosing their housemates. We ask our participants what they want and need and we design a home environment to suit their wishes.
We don't fill vacancies, rather we match people who are compatible to live together.
For more information on our Supported Independent Living Service, contact us today.