Gaining employment has been a positive change for Myhorizon Participant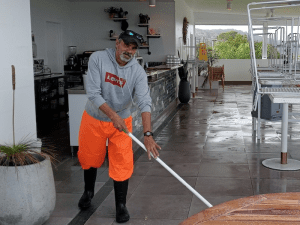 Brett Karklis, thanks to an inclusive and diverse workplace.
Brett has achieved his goal of finding part time sustainable employment in his local island community with Straddie Brewing Co on North Stradbroke Island, empowering him to push past his barriers.
Working at the Brewery has turned Brett's life around where he is now learning new skills, making new connections, and earning a living – all important factors to being empowered and improving wellbeing.
Co-owner of Straddie Brewing Co, Kylie Taylor has welcomed Brett onto her staff and values his contribution to the team, "Brett is a diligent worker and takes immense pride in both his work and our venue. He is always punctual and reliable." Said Kylie.
"When Brett first started with us, it was at a time where we really needed someone at short notice to step in and help clean and prepare our newly opened restaurant and bar at Dunwich. Brett was a trooper and got stuck in with me each day, five days a week."
As an inclusive and diverse employer, Kylie have seen first-hand the many benefits that hiring someone with disability can bring to a workplace such as reliability, loyalty, and high productivity.
Brett's Employment Coordinator at Myhorizon, Anne Blakeway, has been the driving force behind matching Brett up with the right employer and supporting him weekly to help manage his workplace relationships and offering him encouragement.
"It's really rewarding to see inclusive employers like Straddie Brewing Co giving Participants like Brett an opportunity and supporting and accommodating his needs in their workplace. It's a great example of how diversity in the workplace can deliver great benefits for both employers and employees with a disability." Said Anne.