Karen Wynn joined the Myhorizon Board in 2019, playing an active role as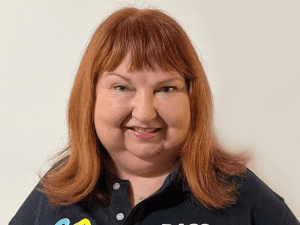 Director as well as contributing to our Myhorizon community through active participation on the Risk Committee. We are thrilled to now welcome her as the new Vice President of Myhorizon's Board.
Karen brings to the Board, and to the wider Myhorizon community, a valuable perspective on disability through her own personal lived experience, having been diagnosed with juvenile onset rheumatoid arthritis as a young adolescent and still living with chronic pain as an adult.
This has given Karen a direct insight into the needs and challenges of individuals with disabilities and a deep-rooted passion to promote access, equality inclusion for all in the workplace.
In addition to the role of Vice President, Karen is also a Senior Executive at RACQ and the Chair for RACQ's EnAble Group – RACQ's first Disability Inclusion Employee Reference Group which is paving the way for diversity and inclusion in the workplace, as well as the wider community.
"Something that often happens with people with disability is a feeling of needing to mask, or hide their disability, especially in the workplace," said Karen.
"I believe that everyone should have an equal opportunity to participate in the workforce and contribute their unique skills and perspectives."
Karen's vision aligns with the values and goals of Myhorizon's Employment & Training Division, which supports more than 500 individuals with disabilities in their search for meaningful employment prospects.
"The Myhorizon Employment and Training team do amazing work each and every day to ensure people with disabilities have access to fulfilling employment opportunities in inclusive workplaces," said Karen.
"As Myhorizon's Vice President, I am excited about playing a role in creating a future where disability is normalised and people with disability have access to safe and inclusive employment."