Life is all about living new experiences and creating memories… that's why we're thrilled to launch our new Mybreak program, creating unforgettable short-term holiday experiences, tailored to you!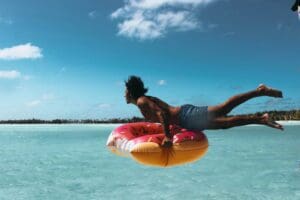 What is Mybreak all about?
In a nutshell, as a participant you get to enjoy a short holiday break with likeminded friends in a beautiful location.
You and two other participants will experience a fun, adventurous (or relaxing) getaway with the full support of a qualified Myhorizon staff member.
Stay at a resort close to all the action on the Gold Coast or an agreed location as chosen by you and your group.
How are your breaks funded?
Although holidays themselves aren't technically funded by the NDIS, the supports involved are. The good news is, you are able to utilise your Short Term Accommodation (STA) funding from your NDIS Core Supports to pay for your accommodation, and food.
As a unique feature of Mybreak, your local transport is also covered and your STA funding will only be charged for the time you are on your break (not 24 hour blocks like most other providers), leaving you saved funds towards your next break with us. Your only out-of-pocket expense are any activities you choose to participate in while on your mini holiday, just like you would do any other time.
What activities are possible?
We want to tailor these experiences to what you love to do, in a caring, empowering and safe environment. Here are just a few exciting ideas:
– Spend a day out at MovieWorld, Seaworld, or Outback Spectacular
– Go Whale-watching for a day or feed the dolphins
– Enjoy a water sports activity or a lunch river cruise
– Spend a day out at the Zoo
– Play mini golf or lasertag
– Go fishing or enjoy a relaxing bushwalk
– Soak up the sun and waves at the beach
– Enjoy a night out at Dracula's or sing your heart out at Karaoke
– See a live band or go out dancing
– Relax in the pool or try out the waterslides
For more information on our Mybreak program, contact us today.