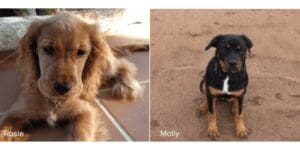 Did you know that 30,000 dogs end up at an RSPCA shelter every year? That's 82 dogs every single day. Many of these precious pups are victims of cruelty, bred to turn a profit, or abandoned by humans they loved unconditionally.
To help fight against this animal cruelty, Jean Jensen and Anne Blakeway, from Myhorizon's Employment & Training team, recently took part in RSPCA's Million Paws Walk, reaching their goals and walking over 40 hours combined with their pooches, Molly and Rosie.
With help from Myhorizon staff, they raised $2808 for this important cause. "We wanted to raise funds to support the RSPCA and ensure these dogs get the love and care they desperately need". Said Jean.
"A big thank you to those who have donated and supported our efforts. Next year we plan to do a Team Event and raise even more money for such a great cause."
Joe Gamblin, Myhorizon CEO, said he was immensely proud of the contribution staff have been able to make to this worthy cause. "Every year many Myhorizon staff participate, as well as a number of other community organisations, all raising valuable funds and volunteering their services without thanks or payment. Well done to all".