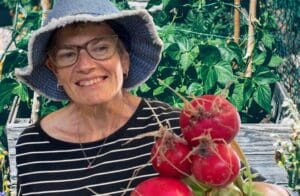 Avid gardener and Myhorizon participant Kerry Dodds, has been busy as a bee at our Alexandra Hills Lifestyle Centre, planting and harvesting a range of home-grown vegetables in the Sussex Street gardens.
The gardens were recently filled with good quality soil, where Kerry is now able to tend to her raddish, lettuce and bok choy, watering them daily and keeping the weeding under control.
Growing, picking and then selling these vegetables to the staff and to the Myhorizon Fruitbox initiative has given Kerry a sense of self-pride and independence, where she even purchases more seedlings for replanting.
What an empowering way for Kerry to give back to her community in her own way.
Click here to find out more about our Lifestyle services.