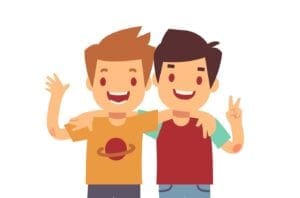 It's not always easy finding a compatible person to share a home with, but for Ian Milne and Dwayne Evans, they're now like two peas in their own 'bachelor pod'!
Both Ian and Dwayne had previously transitioned to Supported Independent Living through Myhorizon's Accommodation Services, and earlier this year had each been living on their own. The strong friendship they formed had them soon making joint plans for activities, visiting each other's homes, and bonding over their love of the Broncos.
"It seemed like a natural next step in Ian's and Dwayne's friendship when they requested to share a house together". Says Rod Kennedy, Director of Myhorizon's Accommodation Services.
"We put a transition plan in place soon after which included sleepovers at Ian's place with their support staff, while we consulted family members and conducted all the necessary checks with the NDIA." Says Rod.
In April this year, Dwayne moved in to Ian's Thornlands home and they haven't looked back.
"It has been really great to see both Dwayne and Ian develop this strong bond, but also build their capacity and skills to communicate their choices and preferences for living together, and all the daily routines, tasks and interactions that come with that." Says Rod.
To find out more about our Supported Independent Living and Accommodation Services, contact us today.