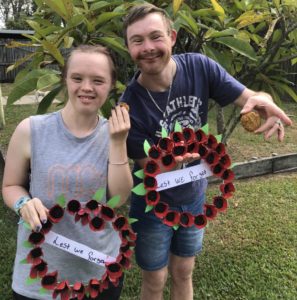 Being in isolation hasn't stopped Myhorizon participants from keeping  busy and productive from home. To commemorate Anzac Day, Peter and Jasmine from Loganholme both spent weeks creating poppy wreaths with the assistance of their Myhorizon Support Workers.
The red poppy wreaths have always been symbolic of ANZAC Day and remembering those who have served and sacrificed.
"Making a wreath was Peter and Jasmine's own way of commemorating, and they both were really eager to bake Anzac biscuits as well." Said Cheyanne, one of Peter and Jasmine's Myhorizon Support Workers.
General Manager of Myhorizon's Supported Independent Living Service, Janine Lillico, acknowledges how important it is for people with disability to feel connected and continue participating in activities right now.
"Many of our participants are used to socialising and getting out of the house so it's definitely been a challenging time for many. However, it's been wonderful to see how our staff and clients are making the most of support in the home." Said Janine.
"Anzac Day has been a great example of how many people are still finding ways to pay their tributes from home this year, whether it be through making and displaying wreaths or showing support by standing on their driveways at dawn. We really do have an amazing community despite these challenging times" Said Janine.