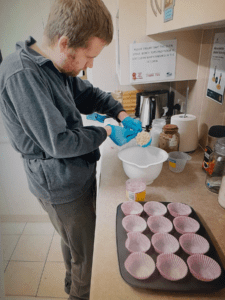 When it comes to food and cooking, Kasper, a participant from our Logan Lifestyle Centre, is constantly thinking up new ideas for what he can create in the kitchen.
From wraps and burgers, to cakes and sweets, Kasper's newfound love of cooking is at the top of his list of things he now enjoys.
After many years of suffering from severe food intolerances, a recent health procedure has meant that Kasper can now enjoy a much wider variety of foods, allowing him to get creative and explore new recipes that are a little more exciting than his previous bland diet.
Nowadays, you will find Kasper outside using the BBQ with Jean Claude, or in the kitchen with Tia (his Support Workers), cooking up a storm, and building his Daily Living skills.
Lifestyle's Executive Manager, Belinda Thompson, is passionate about ensuring participants have hands on opportunities to grow their skills and reach their goals.
"It's about empowering individuals to explore all the things they enjoy and nurture their interests and develop their competencies", she said.
Apart from cooking, Kasper has also been running a car washing business for the last few years, with a growing client base of staff and visitors at the Loganlea Community Centre every Tuesday.
Why not drop in next time you're in the area for a quick wash or even a full detail. Kasper can cover just about any car cleaning needs you have!
For more information about our Lifestyle services and locations, contact us today.