A generous donation of $4000 was recently gifted to Myhorizon from local Freemasons Redlands Lodge 252 and their charitable arm, Hand Heart Pocket.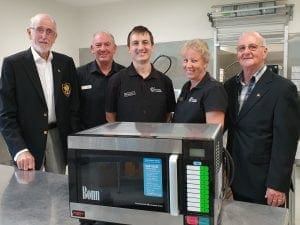 The funds were used to purchase a much needed commercial microwave oven for The Bush Pantry Café, Myhorizon's award-winning Social Enterprise on Runnymede Rd, Capalaba, which employs many individuals with disability.
"Having reliable commercial grade equipment means that we can continue to provide high quality food and service that our customers know us for, so we are very grateful to the Freemason Redlands Lodge for this generous gift." Said Tim Walton, Social Enterprises Manager at Myhorizon.
"The continued success of our Cafe means that individuals with disability continue to have meaningful employment, empowering them to gain a variety of news skills and experience, both in the Café, Myhorizon Event Centre and commercial kitchen, and so community donations are therefore always very appreciated." Said Tim.
The donation from Freemasons Redlands Lodge 252 and Hand Heart Pocket was also used to purchase much needed new wardrobes for Myhorizon's Accommodation service, where several of the Bush Pantry staff reside nearby in Capalaba.
Many local charities and schools have benefited over the years from the benevolence of Redlands Lodge, and as an independent charity founded by the Freemasons of Queensland, Hand Heart Pocket also collaborate with Masonic Lodges all across Queensland, helping in areas of statewide and local need that have limited access to other funding.
For more information about Hand Heart Pocket, visit www.handheartpocket.org.au or for more about the Freemasons in Queensland, go to www.uglq.org.au
Visit The Bush Pantry Café at Myhorizon, 1-15A Runnymede Rd, Capalaba – Monday to Friday, 8am-2pm.