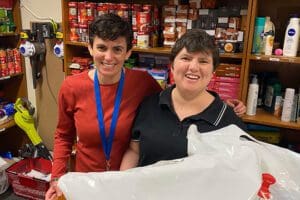 There are many benefits to volunteering in your local community, and for our Wynnum Lifestyle participants, Alicia and Jacinta, they love lending a helping hand to those that need it most by volunteering at the Redlands Community Centre in Capalaba.
Alicia and Jacinta kindly volunteer their time every Friday at the Centre, where they pack emergency relief packages full of basic meal necessities, and also restock shelves and complete a variety of other tasks.
These Emergency Relief Packages are just one way the Redlands Community Centre provides support to those that need it most. They also provide a number of valuable 'one-stop-shop' community focused services which assist people experiencing a crisis in a way that maintains dignity and encourages self-reliance.
Not only have Alicia and Jacinta contributed to a worthy community cause, but together they have developed excellent team work skills, expanded their social group and learnt various skills they can utilise in day to day life.
"It's fun packing bags and I like talking to all the staff members there" says Alicia.
For more information on the many ways you can volunteer with the Redlands Community Centre, visit: redlandcommunitycentre.org