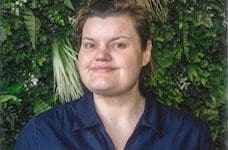 We all know that life doesn't always go to plan, and these last few years have definitely been a rollercoaster for many people.
For Myhorizon participant Jess, the last few years have been an uncertain and anxious time in her life when her cake decorating business didn't survive the pandemic, and she was feeling unsure and worried about her next steps.
After being referred to Myhorizon for a DES Program, Jess met with a Myhorizon Employment Coordinator looking for some support for her next career move.
"From the moment I walked into Myhorizon, I was made to feel safe, valued and a real person, not just a number." Said Jess. "The staff at Myhorizon listened to me and my idea of getting back into the childcare industry and together we formed a plan to achieve my goals."
With this support, Jess has been working at Edge Early Learning Centre in South Brisbane for the past year, and in that time has also gained the confidence to travel overseas on a holiday and recently sign up to do further study to build on her skills and eventually become a Group Leader.
"Without the weekly ongoing support, encouragement, and genuine willingness to help me achieve my goals from Myhorizon, I know I would not have made it this far so soon. I not only have a job but I have a career with real progression opportunities." Said Jess.
"If you want to work and need that extra support to do it like I do, I recommend speaking to the staff at Myhorizon Employment and Training. They're on your employment journey "with you, for you", all the way just like their logo and moto on the wall states." Said Jess.
Myhorizon's Mt Gravatt site manager, Lisa Huntly, has seen first-hand the display of strength and resilience from Jess,
"It has been a long journey for Jess with many obstacles, but through it all she has maintained a positive can-do attitude. Supporting Jess to achieve her goals has been a pleasure for me and I'm so proud of how far she has come. I know Jess has more great things ahead in her future and I'm honoured to be a part of her employment pathway." Said Lisa.